CMA CGM THEODORE ROOSEVELT ARRIVES AT APM TERMINALS ELIZABETH
CMA CGM THEODORE ROOSEVELT ARRIVES AT APM TERMINALS ELIZABETH
The 14,400 TEU CMA CGM Theodore Roosevelt has arrived at the APM Terminals Elizabeth container terminal, becoming the largest container ship to call at the Port of New York and New Jersey.
The ultra-large container ship was also invited by the port authority to inaugurate the newly raised Bayonne Bridge, which now gives air draft clearance to vessels with a capacity of up to 18,000 TEUs.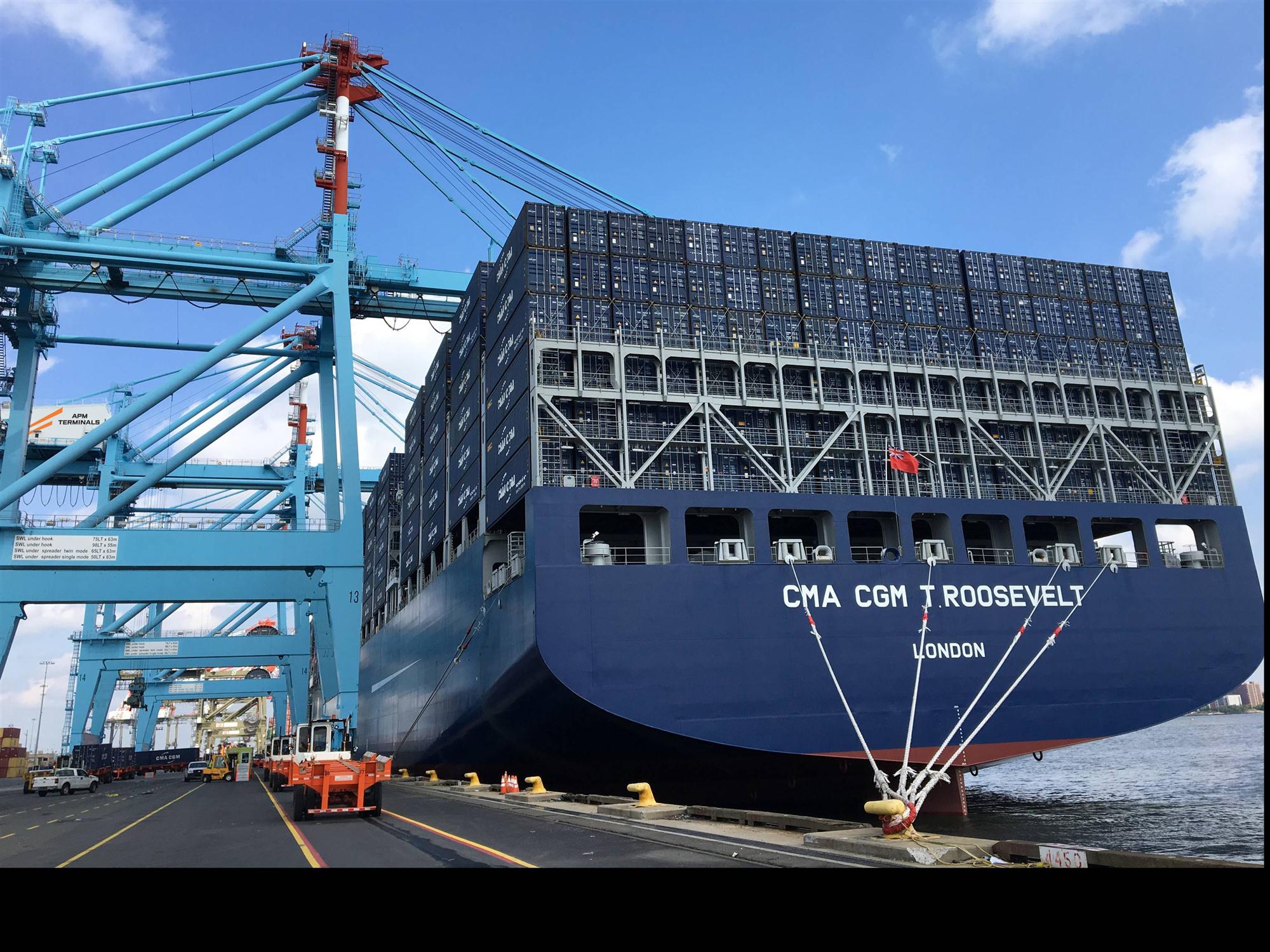 "The ships of the future are here today and we want to recognize the Port of NY/NJ, CMA CGM and our APM Terminals Elizabeth team for bringing the future to the present," said Henrik Lundgaard Pedersen, chief commercial officer of APM Terminals. "We are proud to play a central role in helping our customers keep pace with the changing needs of the shipping industry and investing in the port infrastructure essential to port productivity and the supply chains of the future."
CMA CGM Theodore Roosevelt is on its maiden voyage operating the Ocean Alliance South Atlantic Express service, connecting Shanghai, Ningbo, Yantian and Hong Kong to Savannah, Charleston and Norfolk on the US East Coast. In August 2017, it became the largest vessel to transit the recently expanded Panama Canal.
APM Terminals Elizabeth is undergoing a US$200 million modernization project that will be completed in 2018, consisting of reconstructed and additional berths with dredging to 50 feet allowing for the simultaneous handling of three vessels, four new gantry cranes with a 23-container reach and a new truck gate complex.
"What will set this facility apart is that these capabilities we are building are being conceived not only with our steamship line customers in mind, but also with our landside customers in mind," said Jeremy Ford, head of commercial at APM Terminals North America. "APM Terminals Elizabeth will provide service and reliability in a manner that puts the needs of our various customers, including the landside customers in the beneficial cargo owner and trucking communities, at the centre of everything we do."
Until recently, container ships at the Port of New York & New Jersey were mainly of the 5,000-8,000 TEU size class, with the previous record being 9,600 TEUs, according to APM Terminals.
Source: AsiaCargoNews.