QATAR AIRWAYS CARGO TO LAUNCH CLIMATE CONTROL CENTRE AND FREIGHTER FLIGHT TO HEATHROW
QATAR AIRWAYS CARGO TO LAUNCH CLIMATE CONTROL CENTRE AND FREIGHTER FLIGHT TO HEATHROW
MUNICH (May 9, 2017) – Qatar Airways Cargo will open a Climate Control Centre by the end of May 2017 and launch a freighter flight to London Heathrow on June 3, 2017.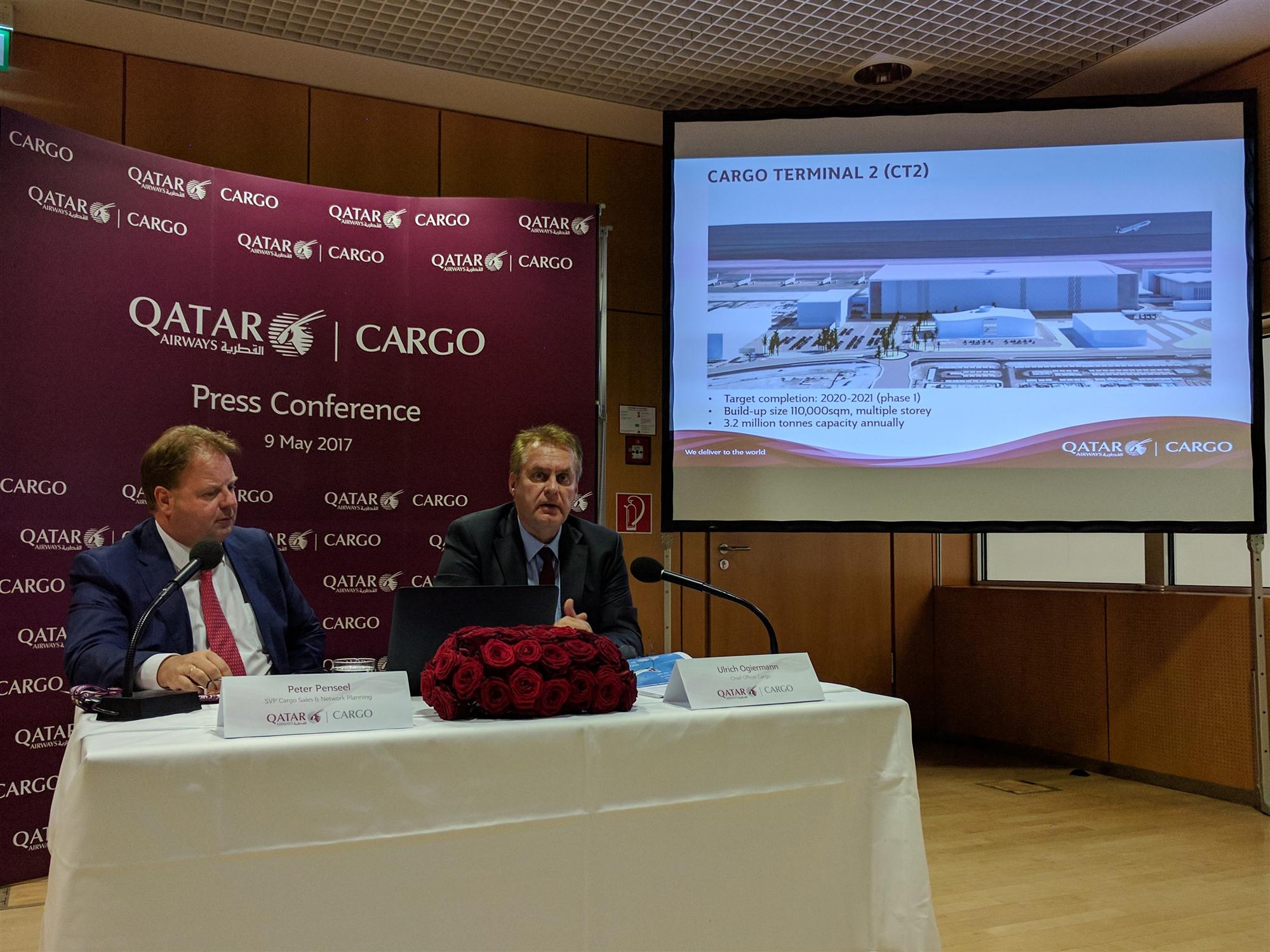 The new 2,470-square-metre facility will offer two zones, one at 2-8°C and another at 15-25°C. It will be served by six truck docks with blow-up curtains and be capable of storing up to 156 ULDs at a time.
The Climate Control Centre is expected to be operational by the end of May 2017.
"Europe is a major market for Qatar Airways Cargo, and we have expanded our operations immensely by increasing our freighter flights to the prime European cities such as Luxembourg, Liege and Brussels in recent months," said Ulrich Ogiermann [right], chief cargo officer at Qatar Airways, speaking at a press conference at the Air Cargo Europe 2017 conference and exhibition in Munich. "This includes the launch of our fourth Pharma Express flight weekly from Basel to Doha yesterday. Ultimately, we aspire to be the preferred cargo service provider to connect our customers' businesses across the globe with quality and speed via our state-of-the-art Doha hub."
The carrier will launch a weekly freighter flight to London Heathrow on June 3, 2017.  It will return to Doha via Basel. The new flight will be operated with an Airbus A330-200F and adds to the existing flight to London Stansted, which the quarter has operated since May 2014.
Ogiermann also added that Qatar's current cargo terminal is already saturated and that the second one, which will be completed by 2021, will be capable of handling up to 3.2 million tonnes a year. To bridge the gap, a temporary relief facility dedicated to courier and mail shipments has been put into use, with an annual capacity of 256,000 tonnes.
The schedule for the new Heathrow flight is as follows.
Source: Asia Cargo News